The Legacy Money Market Fund (LMMF) is a low risk, open-ended, Nigerian Naira-denominated mutual fund that invests in Money Market Instruments. It is registered with the Securities and Exchange Commission, Nigeria. The Fund can invest up to 100% in Nigerian Treasury bills. Its performance is benchmarked against the average yield on the 90-day Nigerian Treasury bill. The Fund is targeted at individual and institutional investors. The Fund's primary objective is to preserve capital, and its secondary objective is to generate stable income for investors. The minimum holding period is 1 month.
The Fund is rated A+(f) by Agusto & Co. In addition, we have a Customer Portal through which investors can view their holding in the Legacy Money Market Fund. Login details will be sent to the investor's registered email address, once the investor has registered at https://portal.fcmbassetmanagement.com
A screenshot of the home page is below.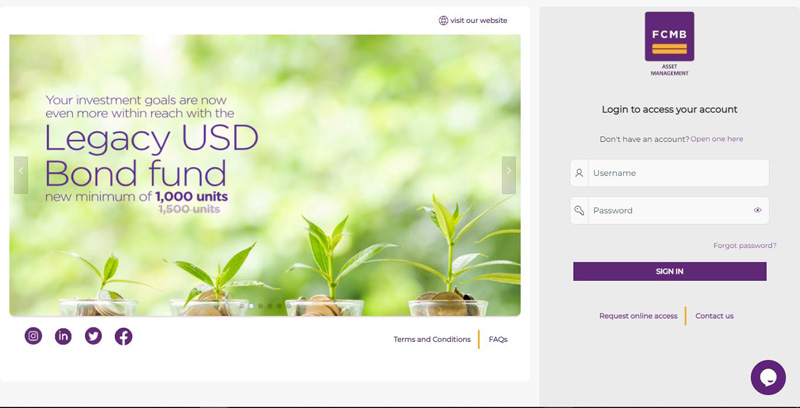 Features
Product currency: Nigerian Naira (NGN)
Country of domicile: Nigeria
Fund Objectives: To preserve capital and generate stable income
Fund rating: A+ by Agusto & Co
Benchmark: 90-day Nigerian Treasury bill yield
Currency risk: Zero
Minimum initial subscription: 1,000 units (at the prevailing market price per unit)
Minimum additional purchase: 1,000 units (at the prevailing market price per unit)
Minimum Investment Period: 1 Month
Interest Payment cycle: Quarterly, or at point of exit, if less than 3 months
Entry/ Exit Fee: Nil/ 25% of interest on capital, if within 1 month
Settlement/ Redemption: Between 1-5 working days
Mechanics
The Fund is a relatively low-risk mutual fund that invests 100% of the portfolio in Money Market Instruments, with a minimum of 25% of the portfolio in Nigerian Treasury bills. Liquidity is assured, as the Fund Manager provides daily bid and offer prices. In addition, the asset allocation strategy of the Fund ensures that the Fund is diversified.
Benefits
Skilled and professional fund management
Opportunity for capital protection and stable income
Excellent means of earning income, including on idle funds
Convenient way of saving towards short, medium or long-term goals
Direct debit option automates regular saving process
Proceeds to investors, at the point of exiting the Fund, are tax-free
The Fund has zero currency risk, as inflows and investment of funds are made solely in Nigerian Naira
Fund is rated investment grade A+ by Agusto & Co
Benchmark is market-driven, so no need to negotiate rates
Fund is very liquid, making entry and exit very easy
Unit holders can monitor their investments 24/7/365 through our Customer Portal and will receive monthly performance reports.
Trading /Settlement
Trading and Settlement is done to provide best execution.
Decision making process
An Investment Committee meeting is held at least once a quarter to determine the direction of the market and how to take advantage of emerging opportunities, which culminates in a house view. The decisions arrived at these meetings guide the Fund Manager on how best to invest the assets of unit holders in the Fund.
"principal and return on investment are not guaranteed"